COMPANY
©TOMOYASU SEISAKUSYO, Inc.


COMPANY PROFILE
Founded in 1948, Tomoyasu Seisakusyo has grown from being a small Osaka factory to being a lifestyle company.
Having started with a single screw, Tomoyasu Seisakusho has been developing original products by drawing on its strengths as a manufacturing company, and creating new value by engaging in a variety of businesses that affect people's daily lives.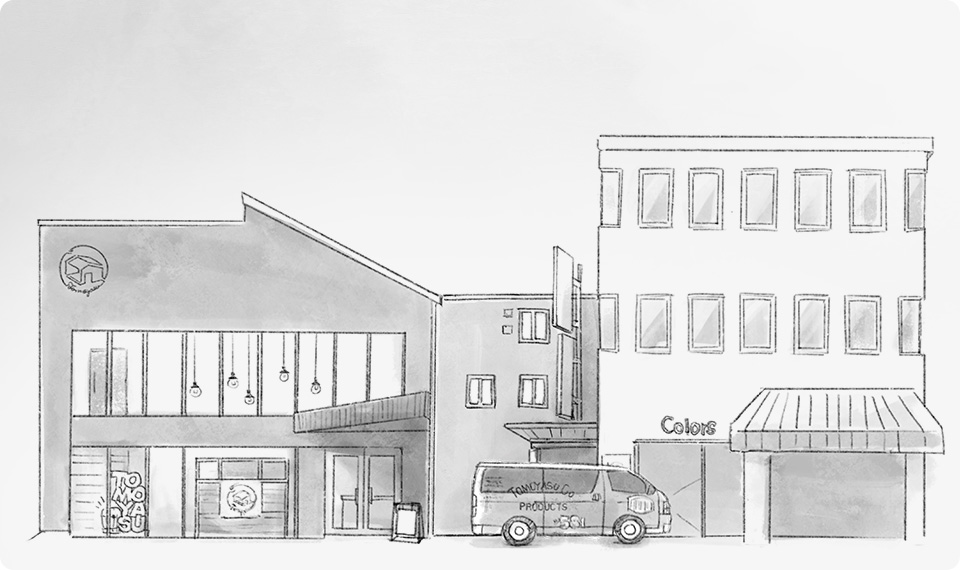 Company Name

Tomoyasu Works Co.,Ltd.

Representation

Hironori Tomoyasu, President and CEO

Incorporation

January, 25 1963

Capital funds

¥3,000,000

Number of Employees

132 employees (as of July 2023)

Telephone Numbers

072-922-8789(representative)
072-922-8869(mail order)
Fax Number:072-922-8878

Business Activities

Import, manufacture, and Internet mail-order sales of interior, exterior, and DIY products, etc.

Items

Curtain hooks, curtains, wallpaper, furniture, paint, etc.
Sales offices

Head Office / Factory 1-36 Jinmu-cho, Yao, Osaka, Japan 581-0067 Tokyo Branch / Cafe Iwasaki Bldg. 3F, 1-7-2 Asakusabashi, Taito-ku, Tokyo 111-0053, Japan Fukuoka Branch / Cafe 301 Marujin Building, 8-17 Reisenmachi, Hakata-ku, Fukuoka City, Fukuoka 812-0039, Japan Abeno Cafe 2-3-8 Abenosuji, Abeno-ku, Osaka City, Osaka 545-0052, Japan RS Factory 10-16 Ueharanishimachi, Kawachinagano City, Osaka 586-0038, Japan Logistics Center 4, 17 Aza 14, Higashifuruichi, Eiheiji-cho, Yoshida-gun, Fukui 910-1212, Japan Campground 11-12-2 Iwaya, Kitago-cho, Katsuyama-City, Fukui 911-0055, Japan

Logistics warehouse

3-8-44 Wakae Minami-cho, Higashiosaka City, Osaka Prefecture
14, 17 Aza 14, Higashi Koichi, Eiheiji-cho, Yoshida-gun, Fukui
15 Nishiki, 17 Aza Nishiki, Higashi Koichi, Eiheiji-cho, Yoshida-gun, Fukui


Affiliated Companies

Crush on Colors Relideon Corporation Cholossi Enterprise Co.

HISTORY
1948

Founder Masami Tomoyasu started manufacturing wooden screws and heatons.

1963

Established Tomoyasu Manufacturing Co.

1985

Moved to current location

2004

Keinori Tomoyasu joins the company and launches the Interior Division In-house brand "Colors" is launched.

2012

Reorganized from a limited liability company to a joint stock company

2014

Opened Tokyo Sales Office

2015

2016

Hironori Tomoyasu becomes President and CEO

2017

2018

Started construction store division

2019

Formed a business alliance with EDION Corporation
Started rental space business

2020

2021

2022

Opened Fukuoka Sales Office

2022

Opened a distribution center in Fukui Prefecture

2023

Opened a roll screen factory in Osaka Prefecture

2023
MORE
EQUIPMENT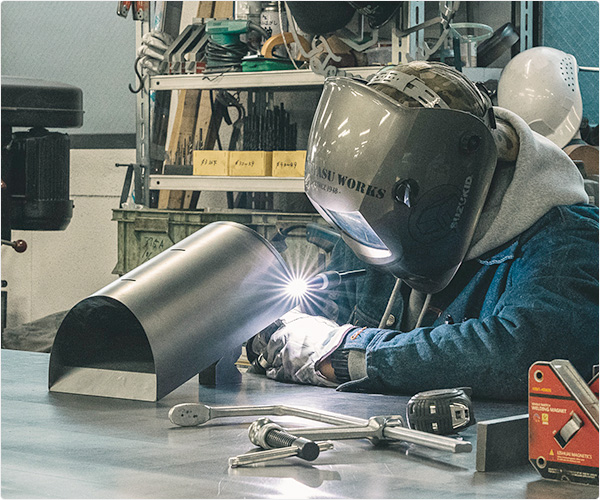 METAL PROCESSING
We offer cutting, welding, laser, and other processing services. Because our craftsmen perform the processing by hand, we are able to handle one-of-a-kind products and more. We mainly produce miscellaneous goods, furniture, fittings, and fixtures.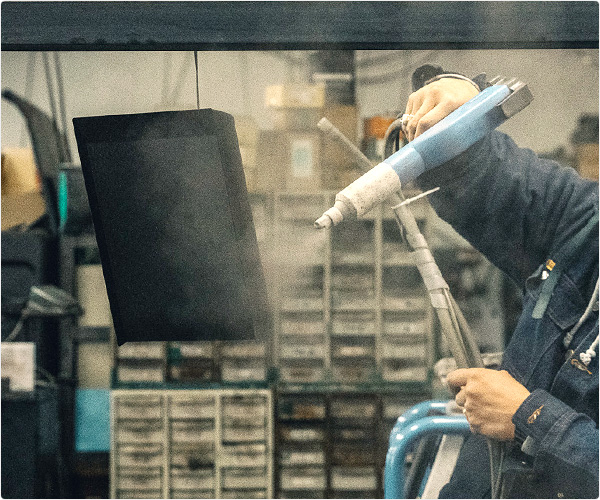 COATING
Powder coating is applied to metal products. Powder coating is a method of applying paint by electrostatically attaching powder and baking it to the surface to dry, and is environmentally and physically friendly and more durable than conventional solvent-based coating.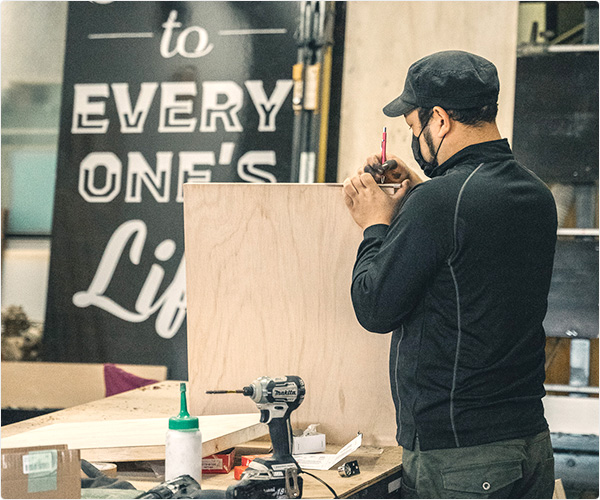 WOODWORKING
We mainly produce miscellaneous goods, furniture and fixtures. We also make one-of-a-kind furniture by processing unique one-of-a-kind pieces of wood.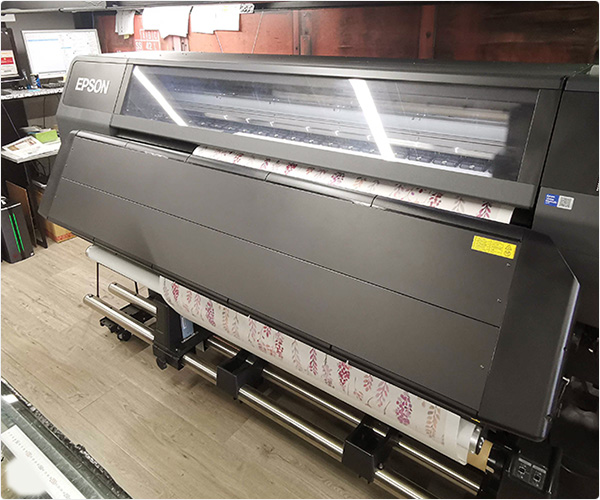 PRINTING AND MARKING
Resin printers and UV printers can print on fabric, wallpaper, roll screens, tarpaulins, and other media. We can also handle event signage and one-of-a-kind products. Laser processing can also be used to mark logos and text on everything from metal and leather to glass.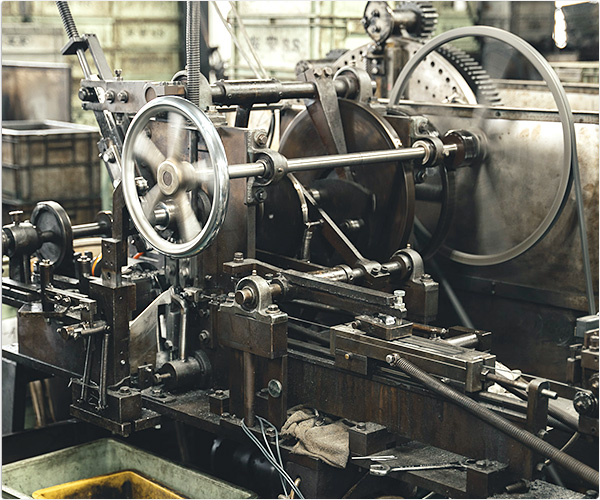 WIRE PROCESSING
The company manufactures metal curtain hooks and currently holds more than 90% of the Japanese market share. We use an original automatic machine tool for processing wire, which was developed by the founder himself.